RESPONSIBILITY
Sustainable plastic packaging.
For over 30 years we have been harmonizing ecological thinking and economic business. In this process, we utilise all opportunities to save material and use recyclable resources.

Our universal packaging is also available as a resource-saving PCR variant, which was developed within the scope of our PÖPPELMANN blue® initiative. The plastic content consists of 100% post-consumer recycled granulate from dual systems. These packagings are 100% recyclable again after they have been used.

Our sustainable plastic packagings are particularly suitable for:
food
cosmetics, e.g. personal care and beauty care
pharmaceuticals and healthcare
We would be happy to find your sustainable packaging solution - tailored to your requirements.
Simply ask us
CONSERVATION OF RESOURCES
The future belongs to the circular economy. This is the consensus.
Our shared responsibility for our planet and future generations has given rise to fundamentally new economic principles in the 21st century. One of these principles is: the future belongs to the circular economy.
After all, the path to a true circular economy is one of the key strategic challenges both for our company and for the plastics industry as a whole. For this reason, we at Pöppelmann have been setting ourselves the task of shaping the shift from linear value creation to a circular economy for many years.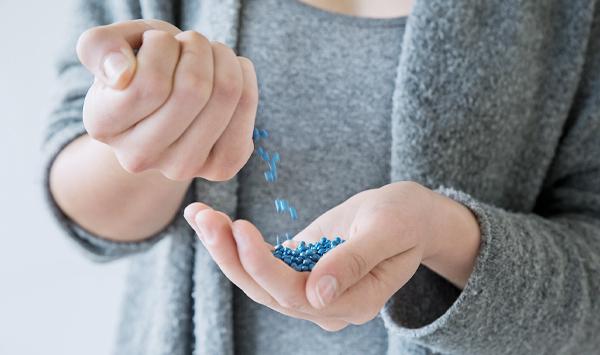 In joint responsibility for tomorrow.
The future belongs to the circular economy.
Learn more about our position on this topic.
Find out more
Product development according to eco-design specifications.
At the centre of our efforts for a sustainable use of resources are three Rs, behind which the key words "Reduce", "Reuse" and "Recycle" are hidden and which we see as the basis for our product development:
EcoDesign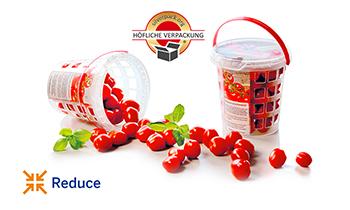 Sustainable packaging with significant material savings.
We reduce the use of materials through resource-friendly article concepts and efficient production processes. Our Reduce+ series is not only convincing in terms of its appearance and functionality, but also in particular with regard to a more economical use of resources.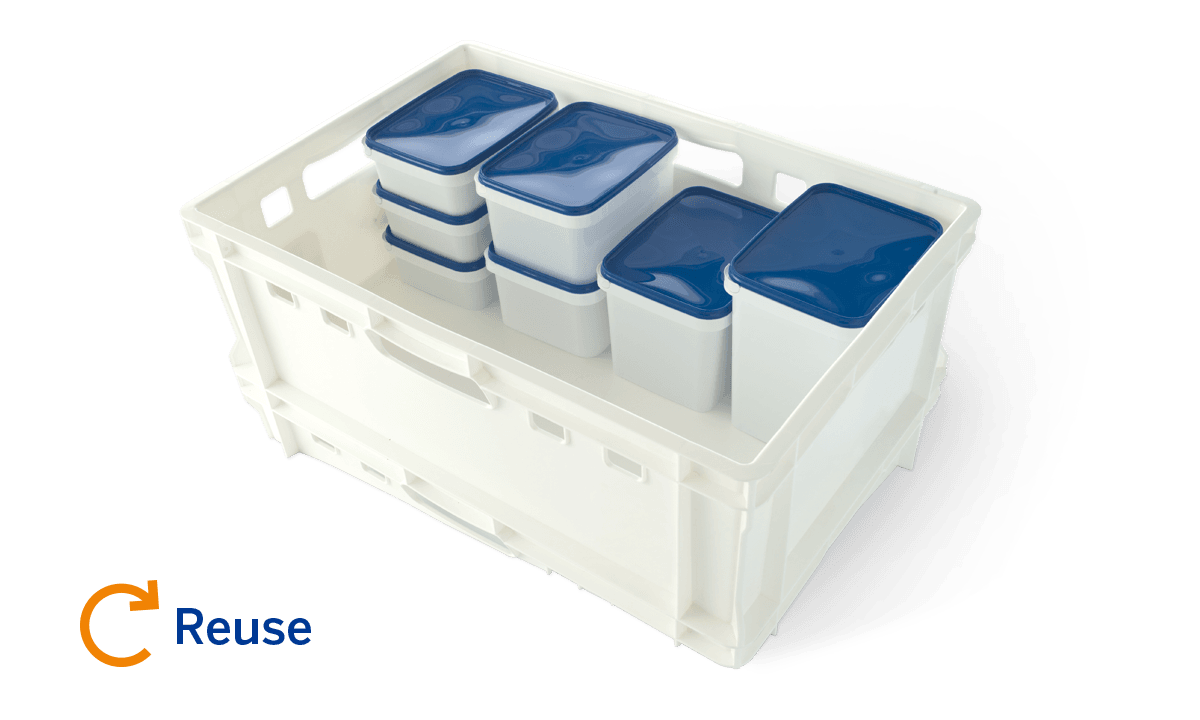 Sustainable packaging thanks to reuse.
We develop products for the consumer goods industry that are intended for reuse. So, the modular system of our rectangular tray series always ensures optimal use of E2 crates in every combination. At the same time, filled boxes can be stacked perfectly and storage capacities almost doubled.
Sustainable packaging made from recycled plastics.
We develop trendsetting concepts to close material loops. Discover our initiative PÖPPELMANN blue® and our new plastic packaging made of post-consumer recyclates (PCR) developed in this context, which was recently awarded the German Packaging Awards 2019.
Sustainability through closed material loop – the PÖPPELMANN blue® initiative. Environmental and climate protection are becoming more and more important for the end consumer. However, our modern lifestyle poses challenges to both packaging designers and the environment: Europeans create 25 million tons of plastic waste every year. As an industrial plastics processing company, we are therefore committed to making our products and processes as environmentally friendly as possible. Our aim is to use plastics that come directly from recycling bins and end up there, too. This allows for a closed raw material cycle. We call it PÖPPELMANN blue®.
Plastic is a valuable raw material. Currently, only about half of the plastic from packaging waste is recycled in Germany. We want to increase this ratio and actively contribute to closing the raw material cycle. Our packagings, spouts and components are designed in such a way that the material can be reliably identified in waste sorting.
PÖPPELMANN blue® in detail
This is how we practise responsibility within the Pöppelmann group:
Sustainable management has been a fundamental factor in our success for decades. The long-term added value of our actions lies at the heart of all of our decisions. This attitude is best described by the notion of "responsibility". We assume this responsibility every day anew – for our employees and the quality of our products, for the natural resources of our planet and for the region which we call home.
SUSTAINABILITY REPORT 2019
We do it. Better.
In joint responsibility for tomorrow.
CORPORATE SOCIAL RESPONSIBILITY
Thinking ecologically.
Acting economically.
CONTACT
Do you have any questions? The FAMAC® team will be happy to answer them.
On-site
Our sales representatives can come straight to your premises. Make an appointment now.
+49 4442 982-3900
Monday through Thursday: 8:00 – 17:00 p.m.
Friday: 8:00 – 15:30 p.m.
By e-mail
Twenty-four hours a day. We will get back to you as soon as possible.