Manufacturing technologies.
With technology from raw material to finished product.
Our aim is to develop high-quality solutions for your products and to implement them efficiently and economically. In doing so, we focus on solutions that cause as few greenhouse gases as possible. Our goal is to produce in a climate-neutral manner by 2039.
We do not shy away from challenges and are constantly breaking new ground together with you. We react quickly and flexibly to the most diverse requirements at all times: with the help of our own toolmaking department, state-of-the-art injection moulding machines, various technologies such as 2K injection moulding, MuCell® or locally foamed PUR seals (FIPFG) and welding technologies.
Injection moulding is the most widely used process for the highly automated production of plastic workpieces by processing granulate.
Complex shapes with different surfaces can be produced in almost any size. The manufacturing process can be fully automated.
The raw material is melted in granulate form and injected under high pressure into an injection mould. After cooling, the article can then be ejected or removed by means of automation.
We mainly use thermoplastics such as polypropylene (PP) or polyethylene (PE).
The advantages at a glance:
Consistent quality

and

high production output

with exemplary cleanliness.

Fast.

Automated process.

Versatile.

Use of different materials.

Demanding.

Can also be used for high component requirements.

Reliable process.

Fully automatic production process, partly with integrated test station.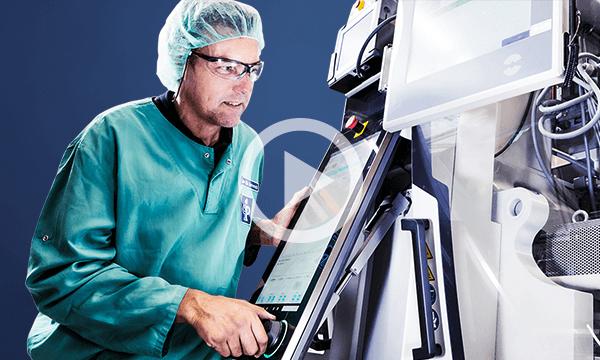 Two-component injection moulding for sophisticated multifunctional parts.
Two-component injection mouldings combine thematerial properties of two different polymers - hard and soft, or reinforced and lubricated grades, for instance. Furthermore, multicoloured parts can be produced and even the interlocking connection of two non-adhesive plastics is possible. Therefore, a single component can satisfy a multitude of demands with respect to functionality and design.
Added to this are economic and logistical advantages: The component is formed in a production sequence, meaning the cost and effort of assembly and post-processing is done away with. At Pöppelmann all the steps of the process chain – from the development of the 2C part, through mould making, up to production – are brought together in one place. Applying this holistic concept ensures that 2C parts from Pöppelmann are continuously distinguished by being of a high level of quality yet economical at the same time.
The advantages at a glance:
Multifunctional. Different material combinations are possible.
Reliable. Fully automated manufacturing process; some steps with integrated testing station.
Economical. One of the manufacturing steps and additional or later assembly steps become obsolete.
Permanent. Solidly joined materials.
Sophisticated. Suitable also for highly demanding components.
In-Mould-Labelling – high-quality decorated packaging.
With in-mould labelling, a plastic packaging is already provided with a pre-printed plastic label during production. A robot positions the printed, thin plastic film in the mould. There it is fixed and back-injected with the container or lid material. After the injection moulding process, the label and the moulded part form an inseparable unit with a continuous surface.
Since moulding and decoration are carried out in a single operation, the logistical effort of intermediate storage is eliminated. The pronounced time and cost savings make the use of in-mould labelling particularly economical. Moreover, the process also scores points in terms of environmental aspects. With the same basic material for label and container, the recycling of IML-decorated jars, buckets, crates and other packaging is possible without any problems.
The advantages at a glance:
Precise.

Nothing slips and nothing moves.
Fast. Automated process.
Precise. Fully automated controlling using a camera system.

Economical.

Moulding and finishing in one process.

Ecological.

Recycling of identical basic materials.

Premium quality.

Captive packaging component.

Hygienic.

Moisture- and temperature-resistant.
The thermoforming process for ultra-light packaging and trays.
In the thermoforming process, a plastic film is heated and shaped under vacuum inside the mould, then cooled and simultaneously punched out. The resulting round and rectangular containers are then stacked fully automatically.
The support grid that is created during the process is fed back into the thermoforming process as "new" raw material. Pöppelmann FAMAC® manufactures the necessary films in-house wherever possible. Thanks to modern in-line and off-line solutions, we produce our items with a minimum use of materials while meeting our customers' high demands for stability and machinability. Thanks to a low use of material, we save raw materials and reduce transport costs along the entire supply chain.
The advantages at a glance:
Resource-saving due to reduced use of materials.
Material variety ue to in-house foil production.
40 years of experience in the thermoforming process.

Consistent quality

and high production output with exemplary cleanliness.
Modern furnishing plant. Film extruders as well as in-line and offline plants.
BRC certification.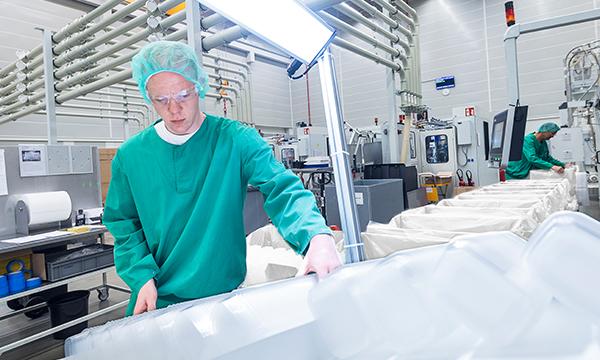 Clean room production – highest certified cleanliness.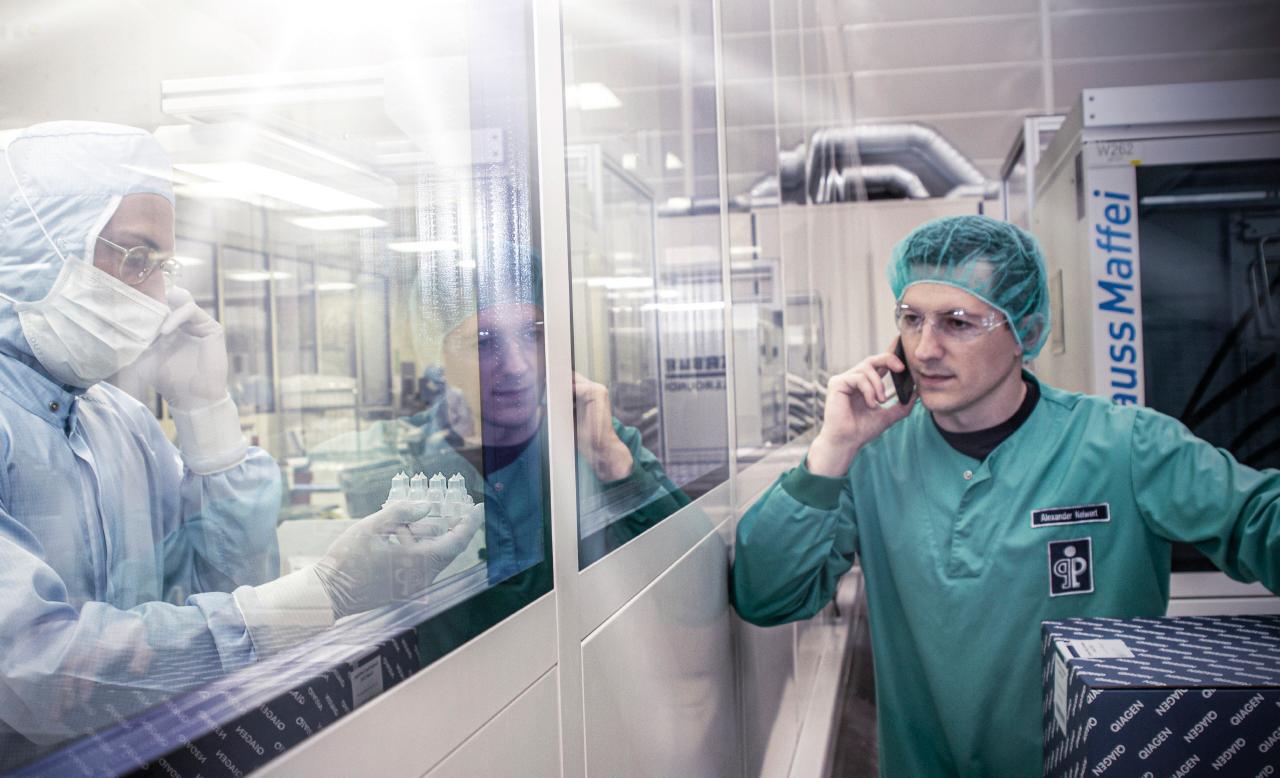 For the medical and pharmaceutical industry. Functional parts and packaging: Pöppelmann produces plastic parts and assemblies in the highest standards of cleanliness under certified clean-room conditions (DIN EN ISO class 7, GMP Standard - C).
The injection moulding machines and all control cabinets, auxiliary devices etc. are located outside of the clean room. This reduces the power requirements and operating costs of the air conditioning. Retrofits and subsequent extensions of the machine can be carried out without any restrictions so that customers' requirements are accommodated in a flexible manner.
The tooling area outside the cleanroom is easily accessible for tool change and maintenance purposes without influencing the work process in the clean room and thus the quality of the plastic components. If an injection moulding machine or an additional system gets damaged, it will not result in a contamination of the cleanroom. Filter systems ensure a particle and germ concentration pursuant to DIN EN ISO 14644 – Class 7 and Class C of the EC GMP, i.e. less than 350,000 particles/m3 down to a size of 0.6 µm.
The advantages at a glance:
Clean. Less than 350,000 particles/ccm (down to a size of 0.6 μm).
Safe. Autonomously operated clean rooms with separate air-conditioning and filtering system.
Flexible. Consignment of individual parts and assemblies as well as installation.
Qualified. DIN EN ISO 14644 Class 7, GMP Standard - C.
Economical. Compact layout, low operating costs.
Certified. Quality management system pursuant to DIN EN ISO 13485:2016.
Simply more economic – fully automatic assembly and packaging solutions.
Our drive for optimised production processes: Innovative, highly dynamic process and assembly technology have always been standard. For good reason, because optimised production processes effectively help to save costs - whether by means of fully automatic assembly and packaging solutions or packaging solutions integrated into the production process.
This includes the fully automatic removal of the components from the mould as well as the depositing or stacking of the articles on a conveyor belt. Depending on the application, fully automatic assembly, labelling and packaging are part of the subsequent processes. At the end of the process chain, packaging takes place in secondary packaging agreed with the customer.
The advantages at a glance:
Economical. Effective cost savings thanks to lean processes.
Safe. In-house control and monitoring of the different process steps.
Demanding. Reduced component contamination thanks to fully automatic processes.
Process-safe. Packaging "retail packs".
Clean. Module assembly under clean room conditions.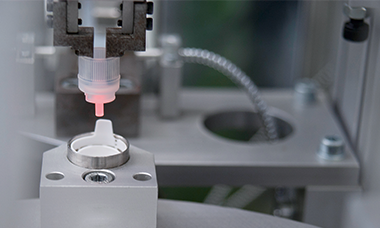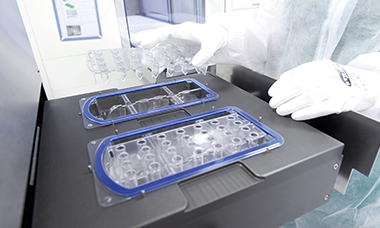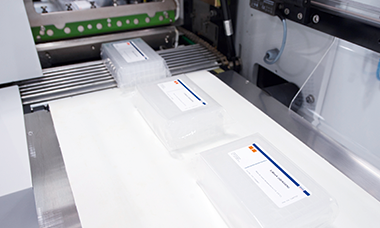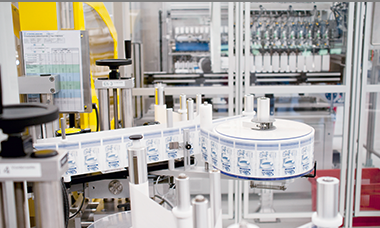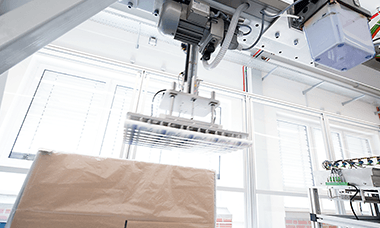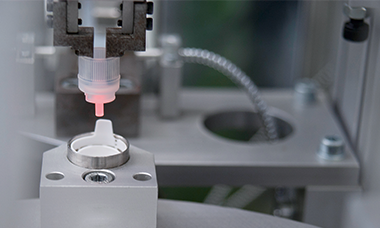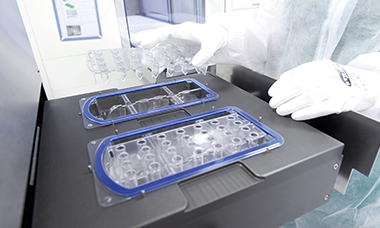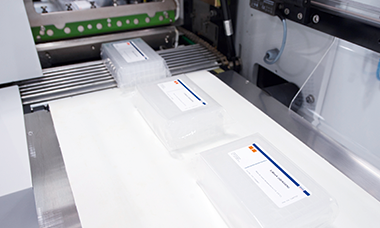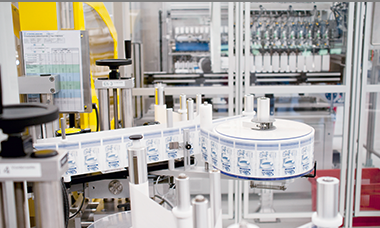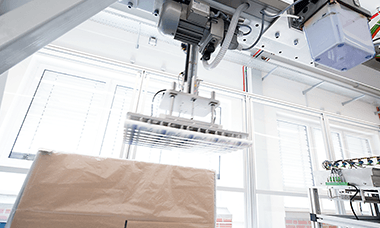 Welding technology - higher product quality, shorter cycle times.
Perfection down to the last detail: Thanks to state-of-the-art assembly techniques, we are able to efficiently realise individual solutions for our customers. Versatile and field-tested processes such as hot-gas welding or vibration welding are standard. At the same time, we are consistently developing the area of assembly technology in order to continue to deliver reliably and quickly in the future.
Hot gas welding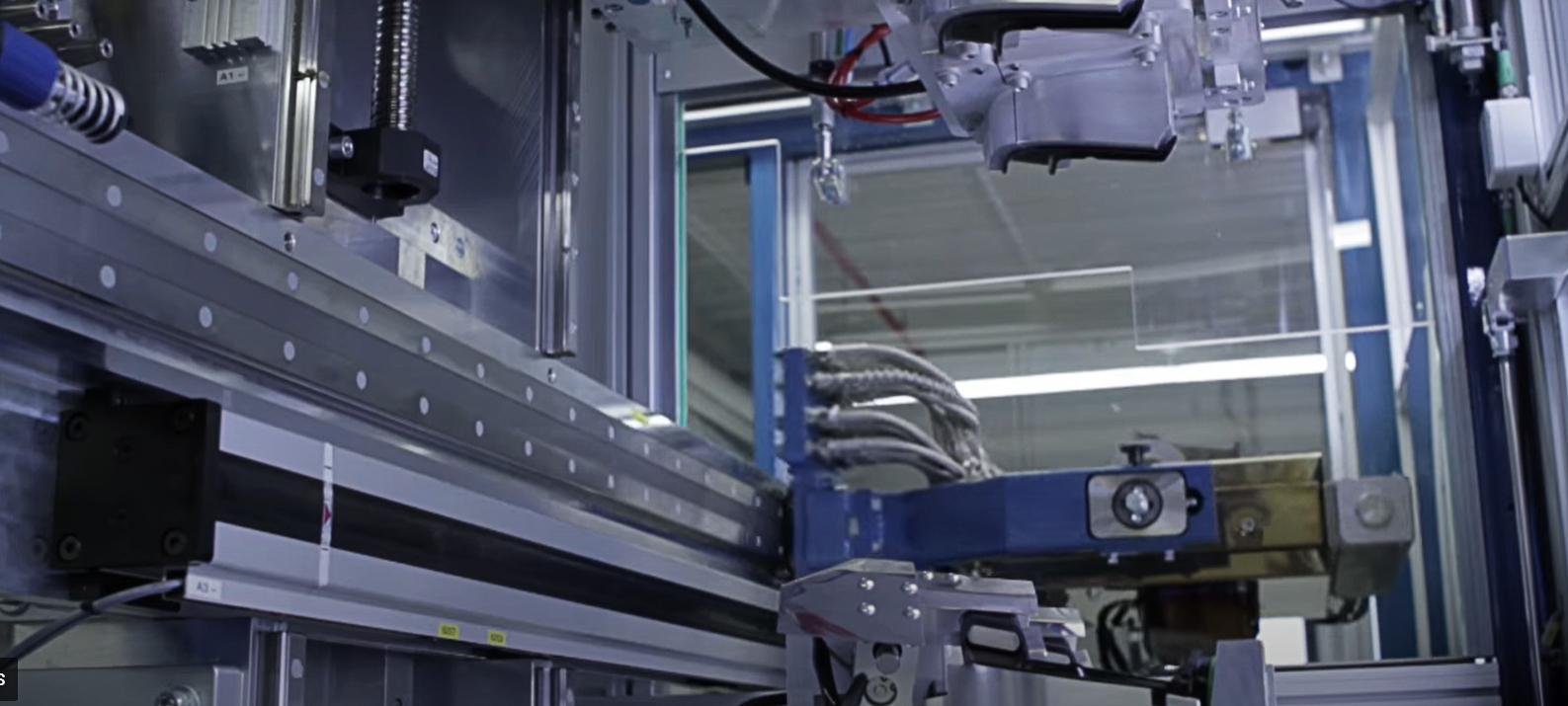 In the case of complex component geometries that cannot be realised in a single injection mould, the geometry must be divided and then joined together again.
Components with demanding geometries that require high strength and a high level of technical cleanliness can be joined together particularly well using hot gas welding. In this process, both components are heated with nitrogen in the joining zone, the plastic melts and the parts are joined under pressure.
In contrast to mechanical welding, this thermal welding process is particle-free. Oxidation of the material is prevented by the use of shielding gas in the welding seam area, thus ruling out thermal damage to the plastic.
Another advantage is that the hot gas welding process can be used for a wide range of technical materials. In addition, the process is also suitable for complex 3D geometries.
Ultrasonic welding
In the case of complex component geometries that cannot be realised in a single injection mould, the geometry must be divided and then joined together again.
In ultrasonic welding, two plastic parts are joined together at the joining zone. Mechanical vibrations create friction at the joining zone, which generates the heat necessary for welding. The plastics are joined together under pressure.
If fast process times with high process reliability are required, ultrasonic welding is particularly advantageous. Also because no additives or solvents need to be used.
Laser welding
In the case of complex component geometries that cannot be realised in a single injection mould, the geometry must be divided and then joined together again.
Laser welding is particularly suitable for 2D geometries in conjunction with quasi-simultaneous welding or for round bodies with the inclusion of radial welding. Laser welding requires one component to be made of laser-transparent material and one component to be made of laser-absorbing material.
The laser penetrates the transparent material and causes the plastic to melt on the adjacent absorbent material. The heat that is generated is transferred to the upper welding partner so that both plastics fuse together.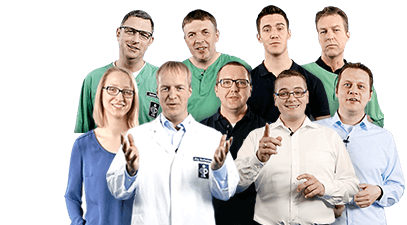 GET TO KNOW US
We make the difference.
One team. One objective. One common goal: It is the men and women working for us, whose knowledge, passionate commitment, and drive for perfection make the difference. Experience exciting and entertaining insights into our daily work, get to know the different areas of competencies at Pöppelmann FAMAC®, your specialist for functional parts and packaging. – Discover who is behind our success.
Discover who is behind our success
You might also be interested in the following topics:
Development
From development to series production.
CONTACT
Do you have any questions? The FAMAC® team will be happy to answer them.
On-site
Our sales representatives can come straight to your premises. Make an appointment now.
+49 4442 982-3900
Monday through Thursday: 8:00 – 17:00 p.m.
Friday: 8:00 – 15:30 p.m.
By e-mail
Twenty-four hours a day. We will get back to you as soon as possible.