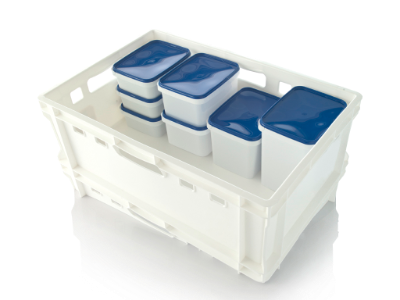 RECTANGULAR CONTAINERS FOR E2 BOXES – STANDARD PROGRAM
Universal packaging: Rectangular containers for E2 boxes.
Optimised dimensions for E2 boxes: Thanks to its modularity, our specially designed rectangular container series ensures efficient use of E2 boxes - for up 40 containers - even if different container sizes are used. Length and width stay the same and only the height varies for the different container models so you need just one lid size while being able to optimise the use of existing storage capacities. We would be happy to send you a free sample from the series Rectangular containers for E2 boxes. Our FAMAC® service team is waiting to assist you on +49 4442 982-3900 or at famac@poeppelmann.com, or you can contact us directly using our contact form.
Rectangular containers for E2 boxes
Colour
opague, clear-transparent, white
| | Bestell-Nr. | L mm | B mm | H mm | Volumen ml | Originalitäts- verschluss | IML In-Mould-Labelling | VPE |
| --- | --- | --- | --- | --- | --- | --- | --- | --- |
| | ER 001-5100 BO | 177,1 | 279 | 162,3 | 5.053 | x | | |
| | ER 002-5700 BO | 177,4 | 279 | 180 | 5.970 | x | | |
| | BR 003-600 O | 177,5 | 138,5 | 40,5 | 794 | x | | |
| | BR 003-1150 O | 177,5 | 138,5 | 63,1 | 1.242,5 | x | | |
| | BR 003-1700 O | 177,5 | 138,5 | 92,4 | 1.817 | x | | |
| | BR 003-2400 O | 177,5 | 138,5 | 129 | 2.434,2 | x | | |
| | BR 003-3300 O | 177,5 | 138,5 | 180,2 | 3.381 | x | | |
Lids
| | Bestell-Nr. | L mm | B mm | H mm | Funkion | VPE |
| --- | --- | --- | --- | --- | --- | --- |
| | D-BR 003 K | 175,2 | 136,2 | 7,9 | Klemmdeckel | |
| | D-ER 002 K | 260,8 | 165,8 | 9,9 | Klemmdeckel | |
| | D-ER 001 S | 261,8 | 166,8 | 20 | Stülpdeckel | |