CONSERVATION OF RESOURCES
The future belongs to the circular economy. This is the consensus.
Our shared responsibility for our planet and future generations has given rise to fundamentally new economic principles in the 21st century. One of these principles is: the future belongs to the circular economy.
After all, the path to a true circular economy is one of the key strategic challenges both for our company and for the plastics industry as a whole. For this reason, we at Pöppelmann have been setting ourselves the task of shaping the shift from linear value creation to a circular economy for many years.
Quelle: Ellen MacArthur Foundation Circular economy systems diagram (February 2019) www.ellenmacarthurfoundation.org
The end is always a new beginning: our blue cycle is based on nature's green cycle.
What exactly is meant by circular economy?
A look at this diagram will help you understand. Here we see the symbolic representation of two raw material loops – one in green, the other in blue. This diagram is based on the Ellen McArthur Foundation's Circular Economy model. The colour green denotes the biological cycle of organic raw materials, whereas blue symbolises the technical cycle of materials such as metal or plastic from production to recycling.
The circular economy is a model of production and consumption in which existing materials and products are shared, leased, reused, repaired, refurbished and recycled for as long as possible. This prolongs the life cycle of the products. In practice, it means that waste is reduced to a minimum.
In our field of work, when we talk about product concepts for a true circular economy, we are primarily referring to the outermost blue cycle called "recycling".
Trend: the future belongs to the circular economy.
Achieving a true circular economy is one of the key strategic challenges for all sectors of society.
What science says: consistent system change protects resources and creates jobs.
A study carried out by U.S. non-profit organization The PEW Charitable Trusts (July 2020) concludes that a consistent system change to a circular economy would reduce plastic pollution, the use of virgin plastic and greenhouse gas emissions. This also has economic advantages over the continuation of the status quo, and creates additional jobs.
Furthermore, the international research team determined that this scenario would result in a reduction in costs for the entire system from raw material extraction to waste management.
Politics says: climate neutrality can only be achieved by making a system change to a circular economy.
Policymakers have mapped out the route to a closed-loop circular economy at national and international level. The EU Commission's Circular Economy Action Plan is at the heart of the European Green Deal, which aims to achieve climate neutrality by 2050.
In Germany, the Federal Cabinet has launched the draft bill to amend the Circular Economy Act.
New regulations concerning the export of plastic waste have been made in the Basel Convention.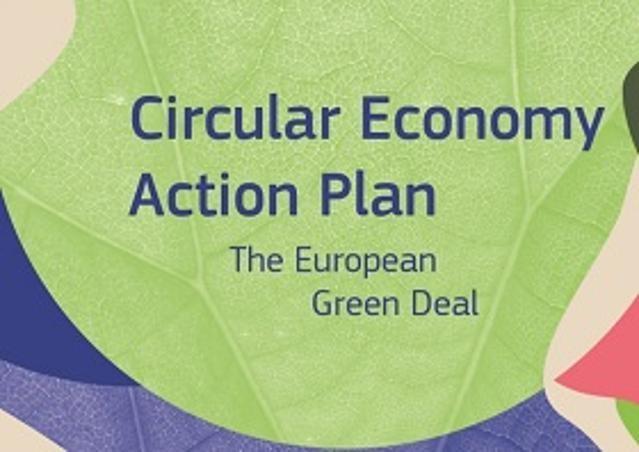 What the environmental associations say: consistent implementation of a real material loop is required.
Environmental associations such as the German Nature and Biodiversity Conservation Union (NABU), which has created a platform for the exchange of a wide range of key players (politics, commerce, associations, etc.) with the "Dialogue Forum on the Circular Economy", or even the World Wide Fund For Nature (WWF) are all urging for progress in the debate with valuable contributions.
At the same time, numerous initiatives are actively driving the issue forward: more than 450 companies, organisations and associations have now signed the New Plastics Economy Global Commitment initiated by the Ellen MacArthur Foundation.
Eliminate – Innovate – Circulate: these are the Foundation's benchmarks on the way to the goal.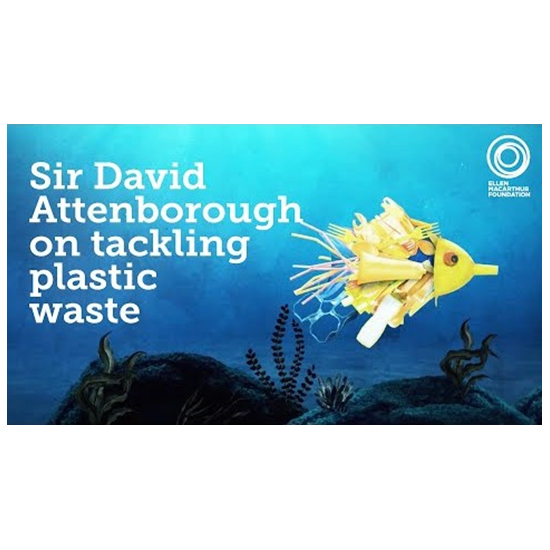 What sector associations say: the circular economy is the single most important communal task we face.
The plastics industry is also getting involved: companies and associations from the entire value chain have joined the Circular Plastics Alliance initiated by the EU Commission.
The German Association for Plastics Packaging and Films (IK), together with other associations of the plastics industry, has dedicated itself to the task of defining suitable and marketable framework conditions for the circular economy.
The HolyGrail 2.0 digital watermarking initiative is an alliance in which more than 130 companies and organisations are collaborating to develop a digital watermark for packaging under the auspices of the European brand association AIM. The goal is to improve sorting as a prerequisite for more efficient and high-quality recycling – we are also involved!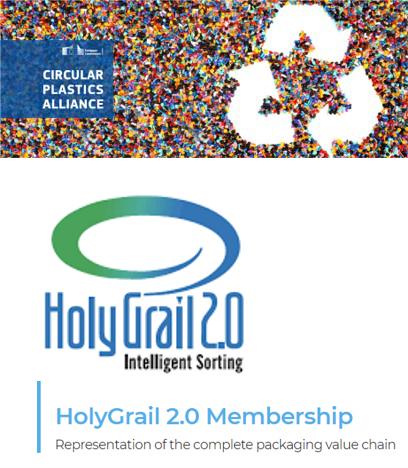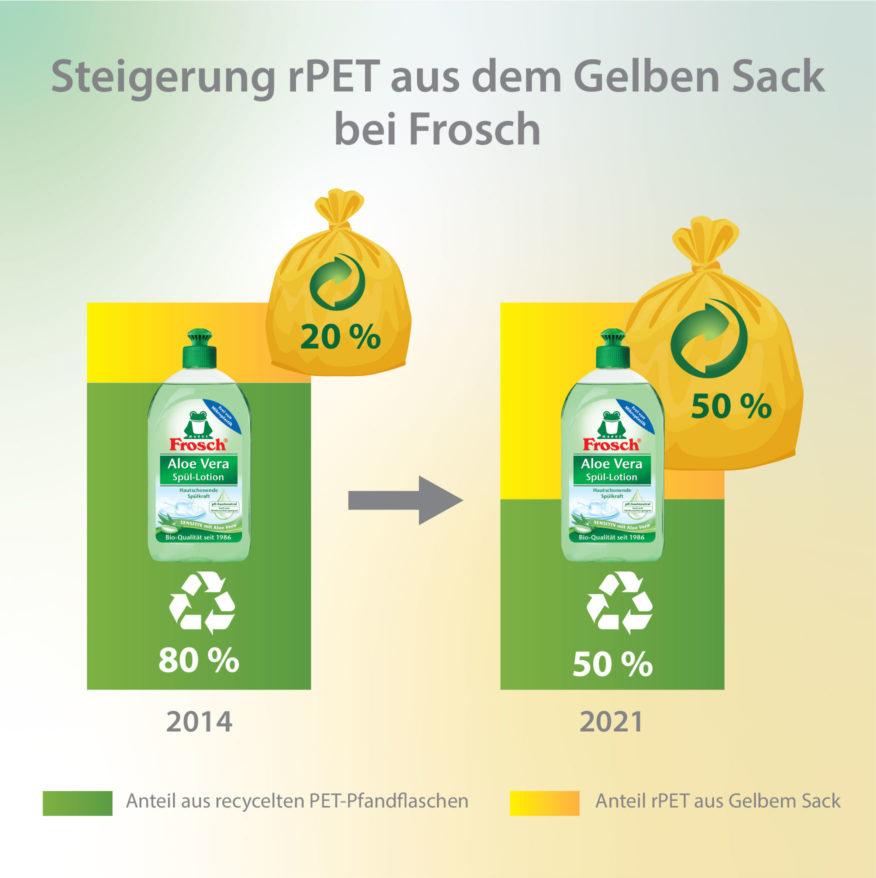 Assuming responsibility together. We need you!
We need comrades at all levels of the value-added chain.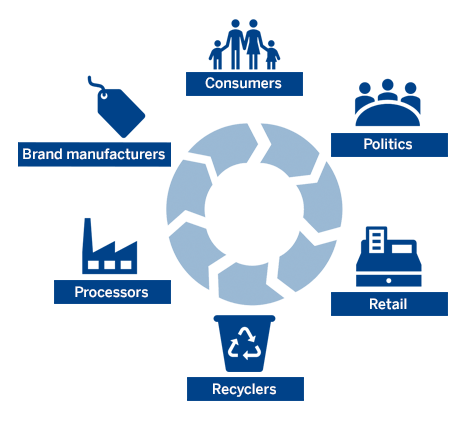 We are ready to invest all of our know-how, expertise and competence in dealing with plastic to achieve the goal of a circular economy.
Like the entire plastics industry, we rely on cooperation with all stakeholders from the areas of politics, science, business and society.
In order to ensure we can successfully continue down this path, we need you – whether as a consumer, a decision-maker in politics or retail, a plastics manufacturer, processor or recycler.
We need you – as a decision-maker at a brand manufacturer.
Those who provide top quality and innovative products must uphold the same standards when it comes to packaging. The use of recyclable packaging is a step towards a circular economy. The goal must be to close loops. The prerequisite for this is openness to actually responsible and innovative solutions. It is also important to take a critical view of disingenuous sustainability.v
Your product is worth it!
We need you – as a consumer.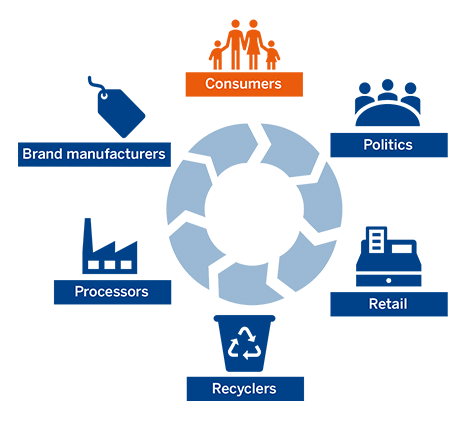 We can all help to drive the circular economy forward: our purchasing decisions have an immense influence on retail stakeholders. In terms of packaging sustainability, plastic packaging often scores better than other materials such as paper or glass.
Equally crucial: as consumers, we must support the production of high-quality recycled materials for new products in the material loop by means of correct disposal and separation of waste.
Our actions are decisive.
We need you – as a decision-maker in politics.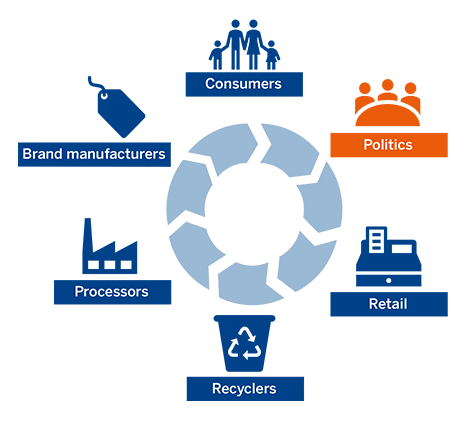 A true circular economy must be promoted. Public procurement has a great deal of leverage if preference is given to products with a high proportion of recycled material. The so-called "plastic levy" and recycled material quotas are decisive interventions in the market. They need to be implemented in a targeted manner, e.g. by means of material-specific substitution quotas.
We call for legal definitions in order to create development and investment security throughout the entire value-added chain.
You create the framework conditions for the success of the circular economy!
We need you – as a decision-maker in retail.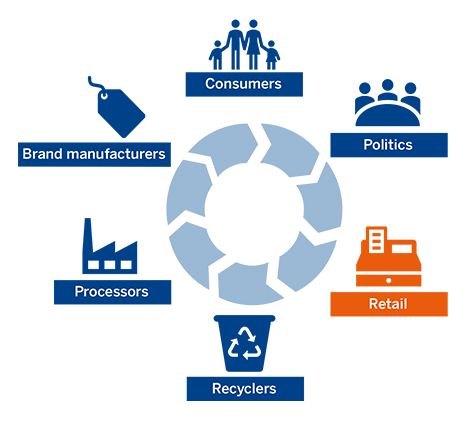 Through targeted specifications for the circular economy, the retail sector can give manufacturers the development and investment security they need. All market stakeholders must demand closed-loop certificates for packaging.
"Greenwashed" products with vague references to recycling should be excluded from tenders, and genuine circular-economy products should be specified.
Your customers know the difference!
We need you – as a decision-maker at a recycler.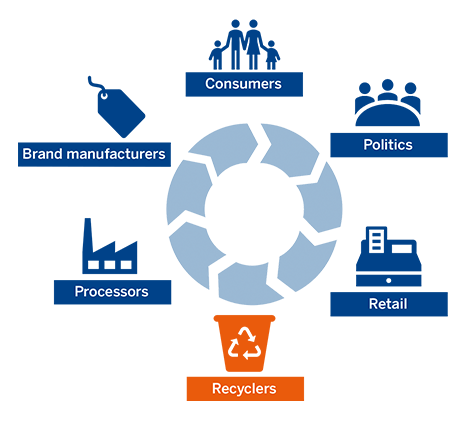 The secondary raw material, recycling and waste management industry is faced with the task of ensuring the availability of PCR materials in consistent quality and increasing quantities. This includes the further development of high-quality PCR material in accordance with uniform standards in order to achieve customer acceptance – even of higher prices – using recognised labels.
You know that plastic is a recyclable material!
We need you – as a plastics processor.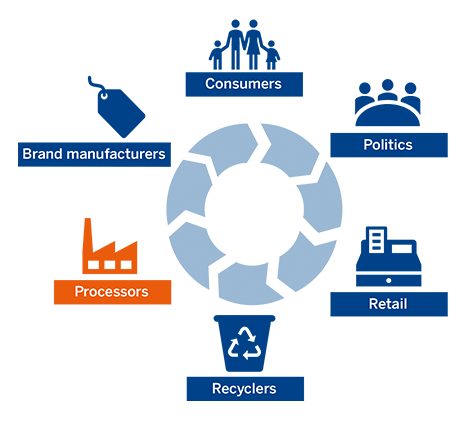 We must not fall into defensive discussions and only complain about what is not possible. Instead, we must continue on our path with resolution and actively shape solutions that are ecologically meaningful, technically feasible and economically viable – and therefore also sustainable. We must be ready to invest in the development of these solutions in the long-term.
We must ensure clarity and transparency and strictly avoid bogus solutions, greenwashing and fraudulent labelling.
We will get the circular economy moving!
Only together can we overcome the innovation chasm …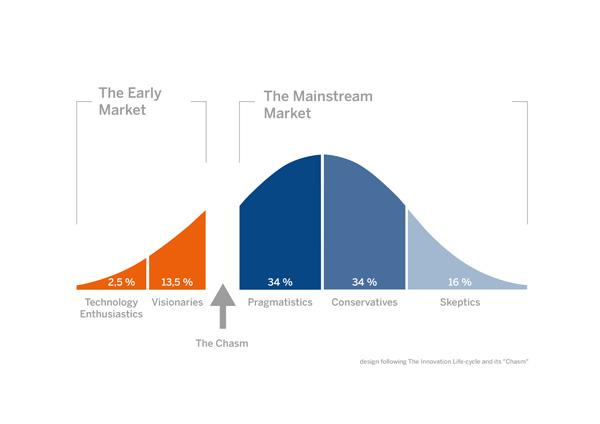 … through the right framework conditions!
… through targeted incentives and specifications!
… through secure material flows!
… through joint innovations!
… through conscious decisions!
... through consistent ACTION!
How we implement PÖPPELMANN blue® in our divisions:
Our innovative solutions from all business divisions that ensure a more resource-saving use of the valuable material, plastic, have long since been implemented in series production:
100 % recyclable plant pots made from PCR (post-consumer recyclate – i.e. recycled material of a product after its useful life) from the TEKU® division,
protective caps and plugs made from 100 % PCR from KAPSTO®, recyclable non-food packaging made from up to 100 % PCR from FAMAC®
and high-precision technical series components made from PCR for the automotive industry from K-TECH®.
Recycling experts from all four divisions are continuously working on further ideas for the resource-saving production of a wide variety of products.
Pöppelmann KAPSTO®
Resource-saving protective elements made from recycled plastics: by using 100 % recycled material which is completely reusable, we close the material loop.
Pöppelmann FAMAC®
Resource-saving packaging made from recycled plastics: in this way, we set our expertise in plastics against the 25 million tonnes of plastic waste generated annually in Europe alone.
Pöppelmann TEKU®
Resource-saving plant pots made from recycled plastics: the plastic for our plant pots in the Circular blue colour comes straight from household recycling waste and ends up there again, too.
Pöppelmann K-TECH®
Resource-saving product solutions in the automotive, electrical, mechanical engineering and equipment manufacturing sectors; development and production of high-precision technical series components made from PCR for the automotive industry.
"In order to achieve climate neutrality by 2050, preserve our natural environment and strengthen our economic competitiveness, we need a closed-loop circular economy."

Frans Timmermanns, Vice President of the EU Commission

"The project has set standards for the future of the circular economy. Pioneers like Pöppelmann enable us to make major advances in terms of recycling post-consumer packages."

Dr Markus Helftewes, General Manager, Der Grüne Punkt – Duales System Deutschland GmbH

"With Pöppelmann blue, we want to drive the necessary transition from a linear to a circular economy and to unify ecological thinking and economic action."

Matthias Lesch, CEO, Pöppelmann GmbH & Co. KG

"The sustainable product policy must be designed in such way that textiles, electrical appliances, packaging, etc. may only be put in circulation if they meet all ecological requirements of a circular economy (durability, reparability, recyclability, etc.)."

NABU Statement on the EU Commission's Circular Economy Action Plan (16/04/2020)
Contact
Do you want to participate? Let's talk about it!
+1 866-886-1556
Monday through Thursday: 8:00 – 17:00 p.m.
Friday: 8:00 – 15:30 p.m.
By e-mail
Twenty-four hours a day. We will get back to you as soon as possible.