Introduction
Welcome to Pöppelmann WTZ.
We develop and produce complex moulds for use in plastics processing. The wide range of articles across the four Pöppelmann business divisions enables us to produce moulds for diverse applications: from thin-walled articles all the way to complex functional components for the automotive sector. The know-how of our workforce of more than 100 experienced specialists along with our ultra-modern furnishing park guarantees the precision of our moulds.
Through our master mould concepts, we offer all customers the possibility of manufacturing different items with a single tool. The idea: A shared master mould is created for as many similar products as possible in order to increase productivity. Then, only contouring components have to be manufactured individually for the different items. By the way: We now even produce master moulds for multi-component items!
There are various demoulding methods for removing internal undercuts in the form of threads. Demoulding by the rotary movement of a core is used for unscrewing tools. An electric or hydraulic drive causes the threaded core to rotate so that the item, which is secured against twisting, rotates out.
Thin-walled technology is often used in the packaging and plant pot sectors. A rough guide for the ratio of flow path length to wall thickness is 300:1. Thin-walled items can save material and reduce cycle time. Thus, the aim is to keep increasing this ratio and at the same time to guarantee the process reliability and stability of the products. When it comes to tooling technology, thin-walled items have high requirements in terms of their surface finish, demoulding forces and cavity centring.
If simple injection moulded or thermoformed items are required in small quantities and a tool is not available, we can print a corresponding tool insert. We have three injection moulding machines and one thermoforming machine to produce items.
Stack moulds can be produced with up to 48+48 cavities and up to 8 t total weight. Stack moulds are used in particular for thin-walled articles with extremely short production cycles. A second parting line almost doubles productivity with the same machine input. The hot runner system is coordinated together with our development partners.
New Moulds
Success by design: individually produced new moulds.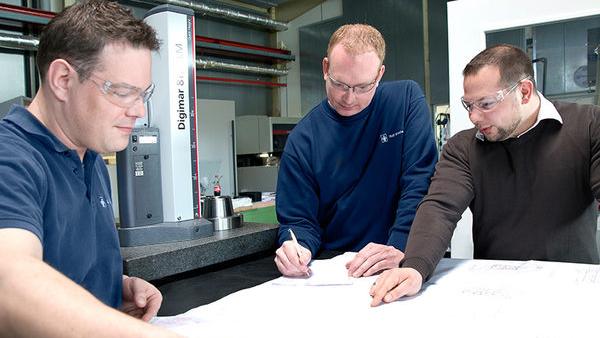 For over 50 years, we are producing highly specialised new moulds for our customers. These include injection moulds in various designs. Our injection moulds range from standardised contour inserts all the way to stack moulds. Each new mould presents us with a new challenge.
Order clarification
New Mould enquiry
Quote preparation
Order receipt and capacity reservation
Conclusion and rough planning
Mould production
Detailed and workshop planning
Programming
Preparation
Final processing
Assembly
Repair and maintenance of moulds
For guaranteed reliable production processes.
In addition to ensuring production, the primary task of our "Repair and Maintenance of moulds" department is to carry out refitting and maintenance work. Necessary corrections to the moulds are also quickly implemented by our team. Following the organisation of Pöppelmann into the four business divisions KAPSTO®, K-TECH®, FAMAC® and TEKU® we have the requisite expertise in the most diverse departments and can complete your orders promptly at all times.
For maintenance work, we use defined schedules that have proven to be effective. The release is issued following a final inspection based on a check-list that ensures functional availability during production. For corrections and repairs, we employ special technologies such as laser welding to minimise the rework required on the component.