history
Plastics. Our Profession. Successful – since 1949.
With 2,500 employees around the world, today Pöppelmann is one of the leading companies of the plastics processing industry in Europe. Over 60 years of continuous growth and innovative plastics technology point the way for future development. The secret of our success: the wishes and requirements of our clients are at the core of everything we do.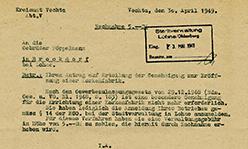 February 1949
Application for approval of a cork factory.
Submitted to the city council of Lohne by Hubert (22) and Josef Pöppelmann (21). Approved after payment of an administrative fee of 5 German Marks.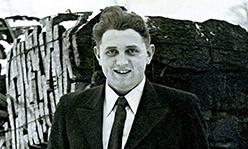 JULY 2, 1949
The Pöppelmann brothers open their cork factory.
The factory: an old hen house on their parents' farm in Brockdorf near Lohne.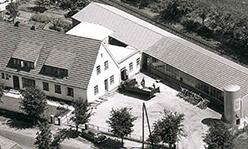 1953/1954
Relocation to Bakumer Straße 2.
Construction of a combined factory, storage and residential building – the nucleus of today's Pöppelmann Group. Nowadays, the building is home to Lohne's youth club.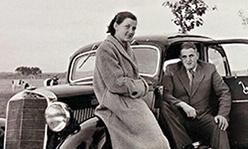 AUGUST 19, 1954
The beginning of a joint venture.
Wedding: Josef Pöppelmann marries Gertrud Hövemann. Even before the wedding, she was active in the company and supported her husband in all business activities right from the beginning. The couple will have six children.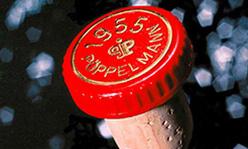 April 1955
The first plastic product: a grip cap.
Purchase of the first plastic injection moulding machine at Hannover Messe. It is used to make the first grip cap for a cork to close a bottle of spirits. Dawn of the plastics era at Pöppelmann.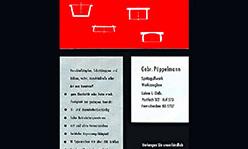 April 1957
Beginning of KAPSTO®.
Purchase of the first Robling-type mould machine. Very fast development of KAPSTO® sealing plugs and protective caps, as well as protective sleeves, into a versatile range sold across Europe. Use in practically all areas of industry. Still a very popular brand today – even for tailored special solutions.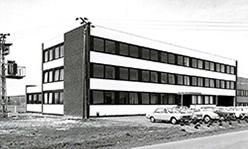 1966
New factory site at Bakumer Straße 73.
Construction of a three-storey administrative building and the first warehouse. Further buildings and administrative blocks are added to the premises in the next few years.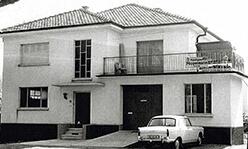 May 28, 1966
Plastiques Pöppelmann France (PPF).
Establishment of the first foreign branch in Rue du Rhin, Mulhouse. Plastiques Pöppelmann France (PPF), a free-standing, commercial company, assumes responsibility for the sale of the entire Pöppelmann range in France. Relocation to its own plastics factory in Rixheim in 1977.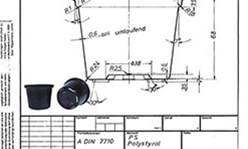 March 1970
Launch of the TEKU® programme.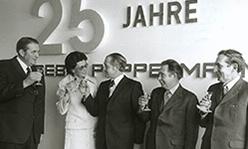 June 28, 1974
25-year company anniversary.
Honouring the pioneers of the company (from right): Aloys Wienhold, Gottfried Thobe and August Böckmann. Simultaneous inauguration of the new premises: Hall 3. The company now has 200 employees. First anniversary brochure entitled "A company introduces itself". In the following years, Pöppelmann continues to expand.
AUGUST 1983
Josef Pöppelmann dies at the early age of 55.
The company is now run by Gertrud Pöppelmann and Josef Pöppelmann's brother-in-law, Karl-Heinz Diekmann, who had been working in the company since 1955.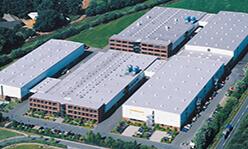 May 18, 1996
Back to the roots: Factory 2 in Brockdorf.
A new factory in a new location: plant in Brockdorf. After completion of halls 21, 22 and 23 in Brockdorf, production of the Pöppelmann K-TECH® business division is relocated there.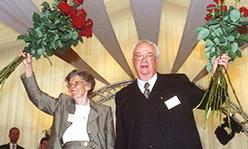 July 2, 1999
The company celebrates its 50th anniversary.
With 800 employees and subsidiaries and branches in France, Spain, UK, Denmark, Belgium and the Netherlands, Pöppelmann is one of the leading companies in the plastics processing industry in Europe. The commemorative publication "The first fifty years" [1949 – 1999] is released.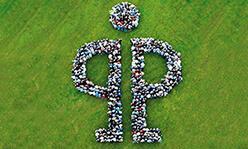 2002
Working together every day.
Appointment of the 1000th employee, Jonas Möllers. The company offers many voluntary social benefits to its staff – thanks to the personal commitment of Gertrud Pöppelmann.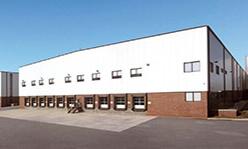 2007
Pöppelmann Plastics USA.
Site opening with the TEKU® division in Claremont, North Carolina. The Pöppelmann group employs more than 1,300 people worldwide.
April 18, 2009
Company owner Gertrud Pöppelmann dies at the age of 84.
The group of companies remains 100 percent family owned. Managing directors Friedrich Kühling, Norbert Nobbe and Franz Nordlohne lead the company.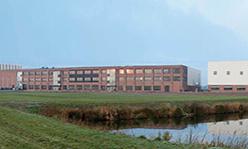 May 2010
Inauguration of Factory 3 at Pöppelmannstraße 5 in Lohne.
Pöppelmann FAMAC® develops and produces sophisticated plastic functional parts and packaging for the medical, pharmaceutical and cosmetics industry.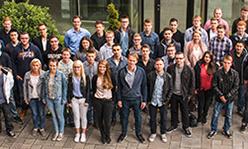 August 2019
Training at Pöppelmann.
For over 60 years, the Lohne-based, family-run company has carried out successful training programmes. With 175 trainees in a variety of apprenticeships, Pöppelmann continues to invest in the future.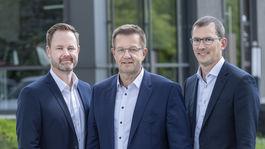 September 1, 2019
Henk Gövert appointed new Managing Director.
On September 1, Henk Gövert took over his new position as Managing Director of the Pöppelmann Holding. This completes the Pöppelmann Management trio: From now on, the Managing Directors Norbert Nobbe, Matthias Lesch and Henk Gövert manage the company together.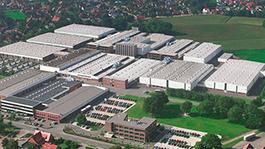 2019
Pöppelmann - a strong partner
With five production sites the Pöppelmann group has grown to become a leading producer in the plastics processing industry. In more than 90 countries, "Quality made by Pöppelmann" is held in high esteem.
Contact
Do you have any questions? The Pöppelmann team will be happy to answer them.
On-site
Our sales representatives can come straight to your premises. Make an appointment now.
+49 4442 982-0
Monday through Thursday: 8:00 – 17:00 p.m.
Friday: 8:00 – 15:30 p.m.
By e-mail
Twenty-four hours a day. We will get back to you as soon as possible.