Information on Pöppelmann's climate strategy
The goal of sustainable management and action has shaped Pöppelmann's corporate objectives for many years. We have been participating in the European Union's Eco-Management and Audit Scheme (EMAS) on a voluntary basis since 1996. Within the framework of our environmental management, the environmental aspect of "energy" is of the greatest importance to us, along with the environmental aspect of "resource consumption". For this reason, our energy management system has also been certified since 2010. We report on these topics in our annual environmental statement. Further information on various aspects of sustainability can also be found in our sustainability report.
The greenhouse gas emissions of Pöppelmann (CCF) show us
the sources and the reduction potentials.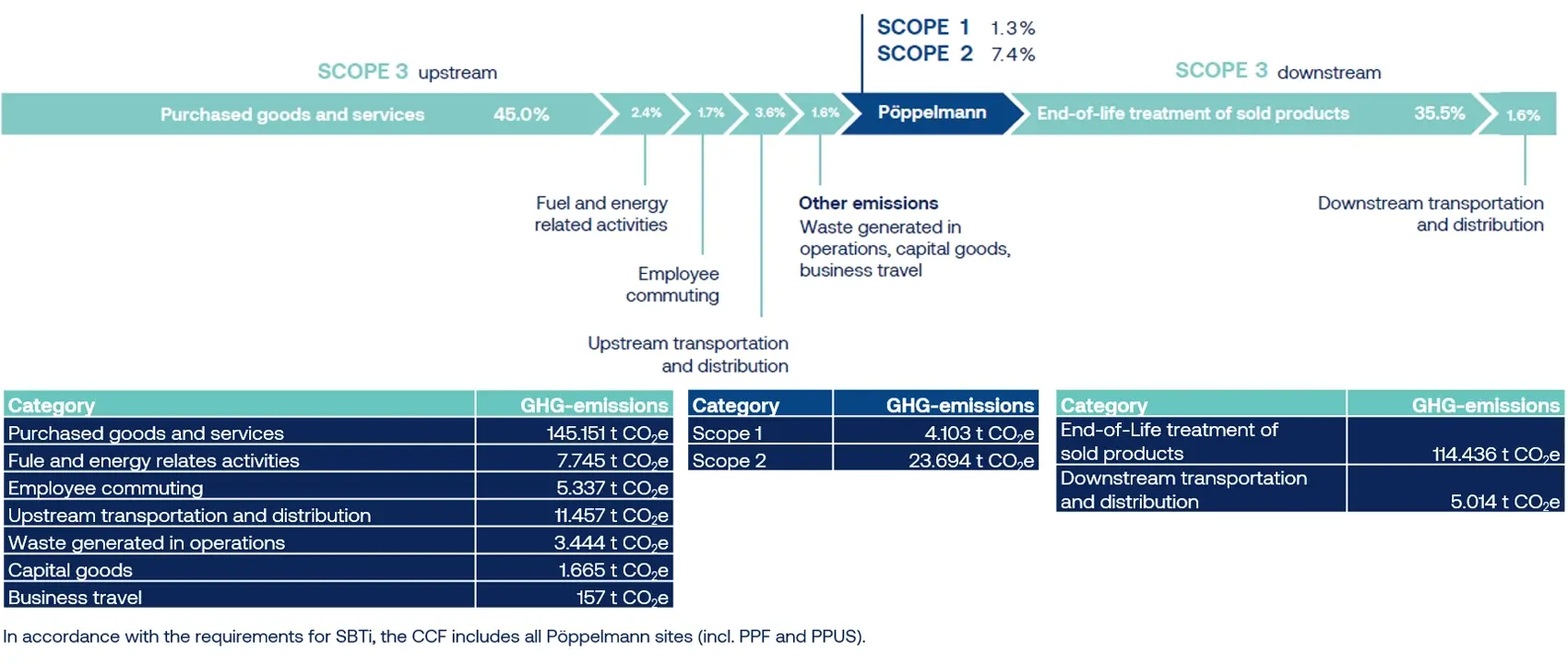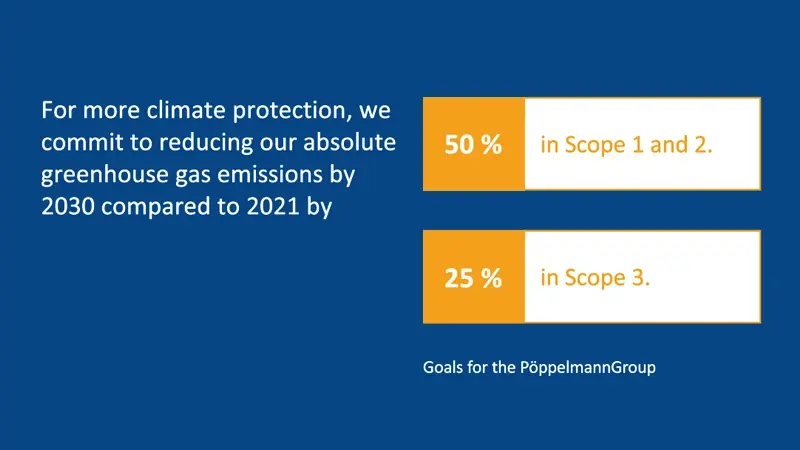 In order to address the increasingly important environmental aspect of greenhouse gas emissions, we are currently developing a climate strategy.
As part of this strategy development, we first determined the Corporate Carbon Footprint (CFF) for the year 2021.
Overall, Pöppelmann is directly and indirectly responsible for 322,203 t CO2e greenhouse gases through its business activities.
Of these, our Scope 1 emissions account for approx. 1.3% and our Scope 2 emissions for approx. 7.4%.
Indirect Scope 3 emissions account for a total of 91% of the CCF.
These are mainly determined by the categories "Purchased goods and services" with approx. 45% (herein mainly our purchased plastics) and "End-of-life of products" with approx. 36% (herein mainly the products that are incinerated).
In December 2022, we set our climate targets. We used the methodology of the Science Based Targets initiative (SBTi) to develop the climate targets.
Pöppelmann officially committed to SBTi at the end of 2022. The validation of the climate targets by SBTi are still pending.

We are already working on many measures to achieve the target. Among other things, the addition of photovoltaic systems on company-owned buildings (6,000 kWp by the end of 2024) will contribute to the reduction of our Scope 2 emissions. For the reduction of Scope 3 emissions, our biggest lever is the circular economy, as we reduce emissions from "Purchased goods and services" through the use of recyclates and emissions from the "End-of-life of products" through recycling-friendly design.